Immediate Work Program
Resource development drilling on Lolón hangingwall and footwall parallel structures and low grade halo mineralisation.
Advance metallurgical vat leach test work on high grade material & dump/heap leach (column leach) on low grade halo material.
Lolón down dip (sulphide) drilling programs in a staged manner along with testing of sulphide metallurgy.
Continue with project development activities.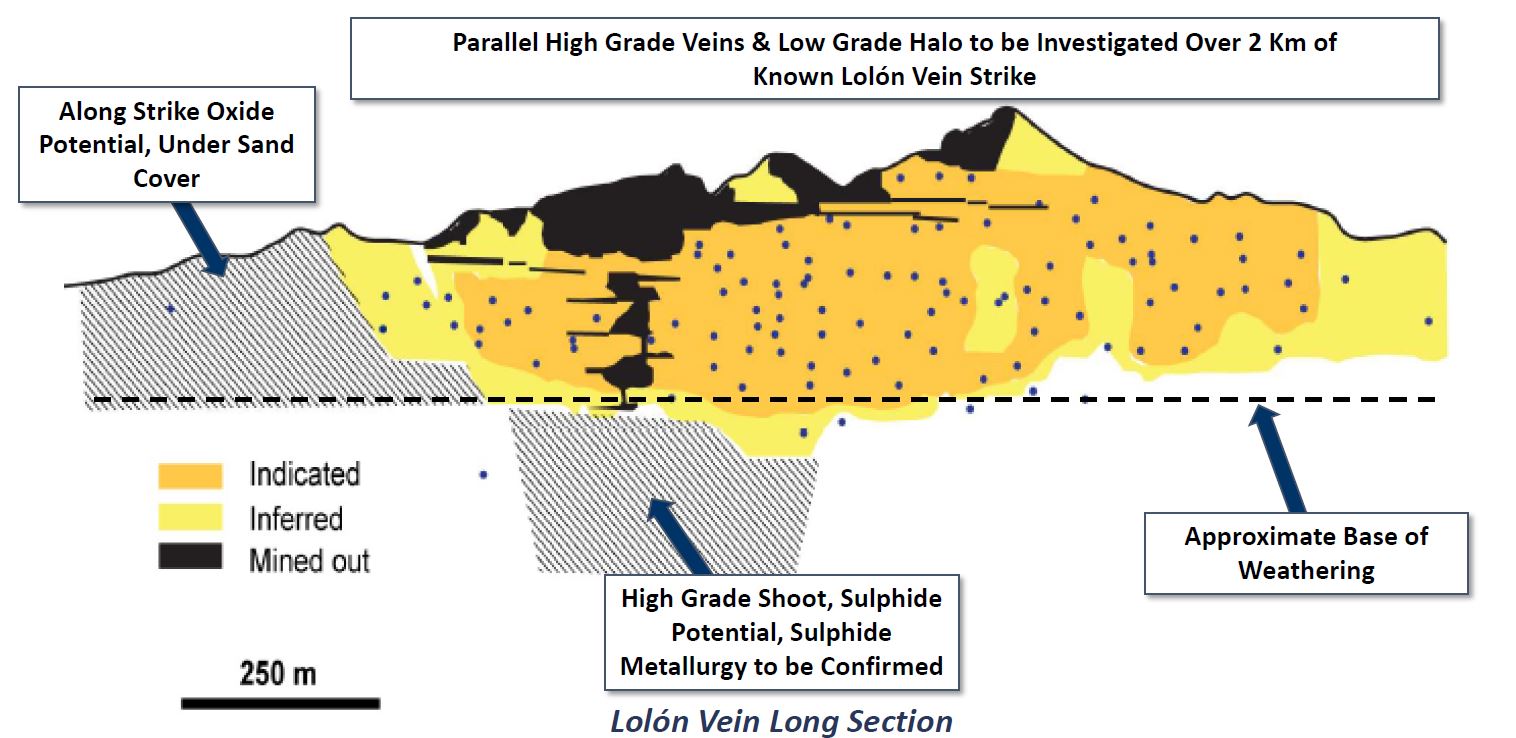 Long Section showing Lolón Vein, Potential areas along strike and down plunge
The legend of the long section above contains inferred and indicated resources originally disclosed by Mandalay Resources in 2015. Aftermath SIlver considers this resource to be historic in nature for the purposes of NI43-101. The Company is not treating the historical estimate as a current mineral resource.
Mandalay's mineral resource estimate classified the resources as indicated and inferred, based on 166 drill holes and 127 underground channel samples. The estimate used ordinary kriging in Geovia Surpac software. The historic Challacollo mineral resources were classified according to the CIM Definition Standards for Mineral Resources and Mineral Reserves (December 2005).
At this time, a qualified person has not done sufficient work on behalf of Aftermath to classify the historical estimate as a current mineral resource and it should not be considered reliable. Aftermath will assess the 2015 historical estimate, as it carries out its planned work at Challacollo, to determine whether it can be verified as a current mineral resource estimate under NI 43-101, or what additional work is required to verify the resource. However, readers should be cautioned that there is no guarantee that the historical indicated and inferred resources shown in the figure will be verified or confirmed in accordance with the requirements of NI 43-101 or the CIM Estimation of Mineral Resources and Mineral Reserves Best Practice Guidelines.
March 2015 43-101 Technical Report "NI 43-101 Technical Report for the Challacollo Silver Project, Region 1, Chile" QPs Mroczek, M., Collins, and M., Butler, S. of Mining Plus Canada Consulting Ltd. and Tapia, J.C., of Sedgeman S.A. Prepared for Mandalay Resources.
Mineral Resources were estimated at a cut-off grade of 60 g/t Ag.
Mineral Resources were estimated using a silver price of US$24/oz, a gold price of US$1,400 per ounce, metallurgical recoveries of 92% for silver and 75% for gold, and operating costs of US$50 per tonne.
A density of 2.45 g/cm3 was used as a base density with adjustments according to the variation of the estimated barium, lead and zinc grades.
No capping of Ag grades was applied due to low grade variability. Au grades were capped at 3 g/t for two sample composites 4.57 g/t Au and 4.11 g/t Au respectively.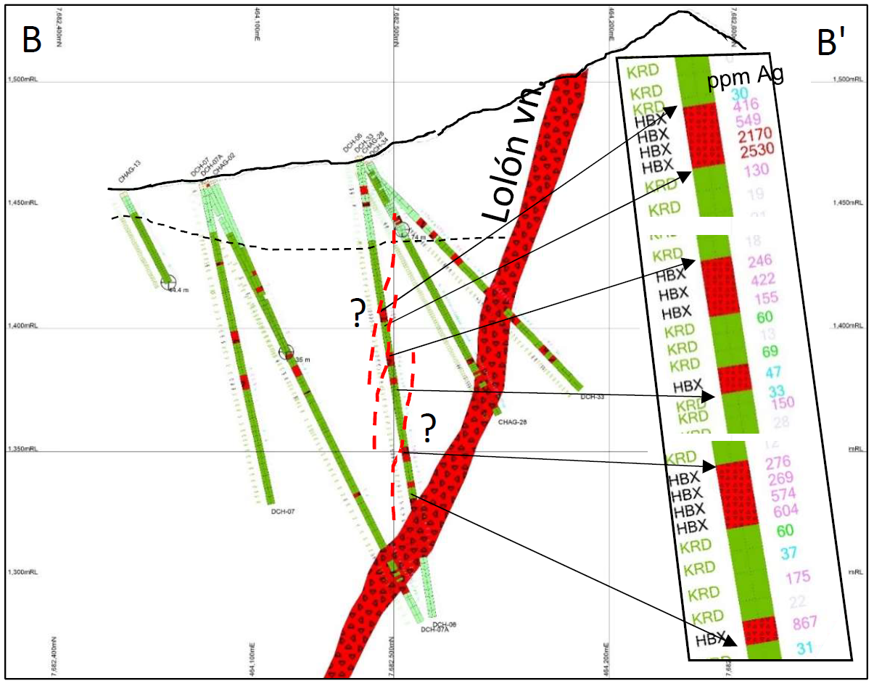 Note the high grade veins in the hangingwall parallel to the Lolón vein